With the Grade ones, I always give them tracers to cut out the body and head (head's a little smaller).
Then I fold over coloured paper and draw an eye shape on each one. They then cut out the double eye. You'd laugh if you could have seen how many kids found that concept oh so difficult to understand -- ha ha!
They cut triangles for ears and more black construction paper for whiskers. Then they draw on their cute little nose and mouth with chalk.
The only tricky part is the tail. I'm sure you're all familiar with how to make those funky spiral tails, but if not, you can see how in the pics.
Not the greatest pic, but I always like to hang them from the wire that's strung across our room.
pumpkin video
, the kids worked in groups to write/draw everything they know about pumpkins. They love this activity and afterwards I always get them to share with the class.
First Grade WOW
!
So pop on over to Cindy's and have a look at her awesome blog.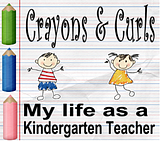 I just won her Skippy Jon Jones t-shirt giveaway. I am ONE happy girl 'cause like everyone else, I love Skippy!!!