TITLE
: T
he Nuts: Bedtime at the Nut House
AUTHOR
: Eric Litwin
ILLUSTRATOR
: Scott Magoon
PUBLISHER
: Little, Brown and Company, 2014
GENRE
: Fiction
THEMES
: Rhyme, Play, Bedtime, Nuts, Family Life
AGES
: 3 to 7
SYNOPSIS
:
Bedtime at the Nut house
is very nutty. Hazel and Wally are two sweet little nuts who love to dance and sing and play and howl even when it's bedtime. Especially when it's bedtime! Mama Nut has to be very strict (as most Moms do from time-to-time) to get her little Nuts into bed.
OPENING LINES
:
It was time for bed. The day was done. But Hazel and Wally were still up having fun. And they sang together. "We're Nuts! We're Nuts! We're Nuts!"
WHY I LOVE THIS BOOK
: The illustrations are bright, colourful and cheerful. It's a funny, goofy book, full of the Litwin magic. I also enjoyed all the silly word play: "Titanut" for Titanic, "Nutvana" for Nirvana, "Unutted States" for United States, etc. I know my new class of Grade 1's will go nutty for this book!
RESOURCES
:
1. Here's a snippet of the book, including the song!
2. Mosaic Acorn Art:
3. Beautiful Acorn Cap Jewels: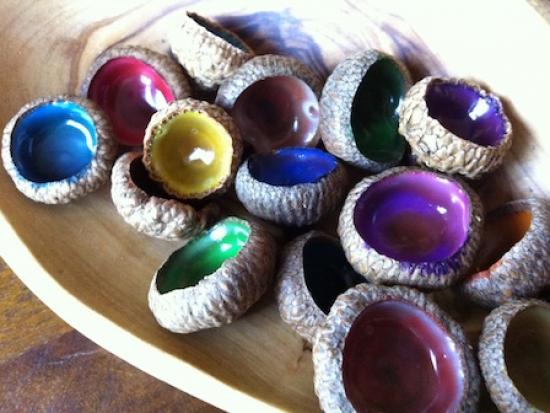 Click the pic for directions.
Thank you to KiwiCrate!
4. A free acorn paper (8 x 11) I made just for YOU!
Click to grab

I'm linking up with Susanna Hill for Perfect Picture Book Friday. I haven't done that in a long while. Be sure to check out her blog. There are always fabulous book recommendations to be found.